Cliff and Liza are husband and wife owner-operators. 2015 marks their 11th year of full time chartering in the Bahamas aboard SOLSTICE. They have completed 132 charters, and traveled over 30,000 nautical miles in the Exumas. They met on a Bahamian Island, and have held a special place in their hearts for these magical islands ever since.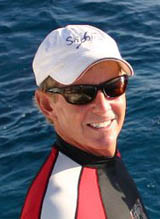 Captain - Cliff Block

Captain Cliff, American, invites you to join him in a Bahamian Adventure! After many years of sailing, flying, diving, photographing and making friends in the islands of the Bahamas, he is eager to share this paradise with you. He enjoys guiding exceptional snorkeling, hooking up game fish, and preparing a trademark family recipe for key lime pie.

Cliff grew up throughout the U.S., with an early passion for the water. He was a certified Scuba diver at age 12, and earned his U.S. Coast Guard Master's License by age 20. After formally studying marine science at Texas A&M, he launched a 25 year career on the world's waterways as a professional captain, as well as achieving his NAUI SCUBA Instructor rating. Cliff can take guests SCUBA diving with no prior certification required and conduct certification courses. Cliff can also provide expert sailing instruction.
Cliff has had the privilege of working in some of the world's premier watersports destinations, including captaining live-aboard dive yachts in Belize, running large Scuba operations for resorts in the Bahamas, working on luxury cruiseliners throughout the Caribbean, as well as on a 170' adventure yacht in Alaska. He also lived on a private island in the Bahamas' Berry Islands for 2 years running the island's operations and entertaining hundreds of guests each week with diving and other watersports. Cliff's prior experience as a Florida lifeguard and EMT has made safety a natural instinct for him, and guests can feel comfort in his knowledge and safety expertise. Cliff loves underwater photography and videography, and has worked with world class photographers on research and specialty dive trips. A former monohull sailboat owner, he is happy to share the space, speed, and stability of a catamaran with his guests.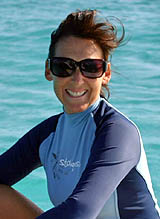 1st Mate & Chef - Liza

Liza, American, was born and raised in St. Louis, Missouri. She moved to New York to attend Vassar College, and adopted New York City as a base for traveling the world until christening SOLSTICE with Cliff in 2004. An accomplished chef, her passion for food is evident in everything she cooks for you, whether it's creative or classic cuisine. She was a freelance food critic/writer in New York City, and attended courses at the Institute for Culinary Education in Manhattan.

Liza also has an eclectic background in the arts. She has traveled the U.S. in Broadway musicals, and sang with big bands in New York City and on luxury cruiseliners. Sailing and diving have always been passions, which she followed throughout the Bahamas, Caribbean, South Pacific and South and Central America. A certified SCUBA diver for 15 years, Liza loves underwater photography and holds two ASA certifications. If you like, she can lead inspiring Yoga fitness classes on the front deck. Her caring attention to details and special requests will leave you feeling satisfied and pampered.

Both world travelers, Cliff and Liza love to meet new people and swap travel stories. They have warm, easy-going personalities and keen senses of humor. Both are non-smokers, but guests may smoke on deck.
Together, they welcome you aboard Solstice!




Please contact your charter broker or travel agent for booking